Trilhas Sonoras
Homem-aranha 2 (2004)
O Maroon 5 está na trilha sonora do filme, lançado em 2004, com a música "Woman". O álbum fez bastante sucesso na época do lançamento. Ouça aqui a canção.
Tracklist:
Vindicated: Dashboard Confessional
Ordinary: Train
Did You: Hoobastank
Hold On: Jet
Gifts and Curses: Yellowcard
Woman: Maroon 5
This Photograph Is Proof (I Know You Know): Taking Back Sunday
Get it Up: Midtown
Lucky You: Lostprophets
Who I Am: Smile Empty Soul
The Night That the Lights Went Out in NYC: The Ataris
We Are: Ana Johnsson
Someone to Die For:  Jimmy Gnecco Feat. Brian May
Spidey Suite: Danny Elfman
Doc Ock Suite
Os Heróis do Pedaço (2006)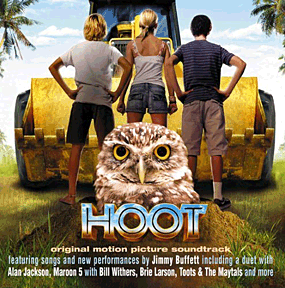 Na trilha sonora do filme de comédia do diretor Wil Shriner, o Maroon 5 aparece com um cover de "Lovely Day", de Bill Withers, que contou com a participação do próprio compositor e de Kori Withers. Ouça aqui.
Tracklist:
Wondering Where the Lions Are: Jimmy Buffett
Back of the Bus: G Love & Special Sauce
Barefootin': Jimmy Buffett / Alan Jackson
Florida: JJ Grey & Mofro
Werewolves of London: Jimmy Buffett
 Let Your Spirit Fly
Floridays: Jimmy Buffett
Coming Around: Brie Larson
Funky Kingston: Toots & the Maytals
Good Guys Win: Jimmy Buffett
Lovely Day: Maroon 5 / Bill Withers / Kori Withers
Happy Ending: Phil Marshall / Mac McAnally / Michael Utley
Jogos Vorazes (2012)

"Come Away To The Water" é uma parceira do Maroon 5 com a cantora Rozzi Crane, feita para a trilha do filme "Jogos Vorazes", lançado em 2012. O longa-metragem conta a história de Katniss Everdeen (Jennifer Lawrence), uma jovem que, num futuro distante, vive numa cidade onde boa parte da população é controlada por um regime totalitário. Num evento anual, o governo escolhe jovens entre os 12 distritos para lutar até a morte. Para salvar sua irmã caçula, Katniss se oferece como voluntária para representar seu distrito. A música estreou nas paradas musicais nos EUA até bem, na posição 83 do top 100 da Billboard. Na época, Crane disse que a parceria aconteceu no momento perfeito, quando ela se tornou a primeira artista a assinar com a gravadora de Adam Levine. "Era um dueto, e fazia sentido cantar a parte da menina na música", revelou. Ouça aqui a música.

Tracklist:
Abraham's Daughter: Arcade Fire
Tomorrow Will Be Kinder: The Secret Sisters
Nothing To Remember: Neko Case
Safe & Sound ft. The Civil Wars: Taylor Swift
The Ruler and The Killer: Kid Cudi
Dark Days: Punch Brothers
One Engine: The Decemberists
Daughter's Lament: The Carolina Chocolate Drops
Kingdom Come: The Civil Wars
Take The Heartland: Glen Hansard
Come Away To The Water: Maroon 5 feat. Rozzi Crane
Run Daddy Run ft. Pistol Annies: Miranda Lambert
Rules: Jayme Dee
Eyes Open:Taylor Swift
Lover Is Childlike: The Low Anthem
Just A Game: Birdy
Mesmo Se Nada Der Certo (2014)
Adam participa como cantor em três músicas da trilha sonora do filme, no Brasil chamado "Mesmo Se Nada Der Certo", em que interpreta o músico Dave. O personagem abandona a namorada Gretta (Keira Knightley) para seguir um contrato solo, com a composição de músicas mais populares. O filme é do diretor John Carney, e marca a estreia do vocalista do Maroon 5 no cinema como ator. Uma das canções, "Lost Stars", entrou na versão deluxe do quinto álbum de estúdio da banda, e foi tocada em alguns shows. Cee Lo Green também participa do longa-metragem e da trilha.
Tracklist:
Lost Stars:  Adam Levine
Tell Me If You Wanna Go Home: Keira Knightley
No One Else Like You: Adam Levine
Horny: CeeLo Green
Lost Stars: Keira Knightley
A Higher Place: Adam Levine
Like A Fool: Keira Knightley
Did It Ever Cross Your Mind (Demo Version): Cessyl Orchestra
Women Of The World (Go On Strike!): CeeLo Green
Coming Up Roses: Keira Knightley
Into The Trance: Cessyl Orchestra
A Step You Can't Take Back: Keira Knightley
Versão Deluxe
Lost Stars (Into The Night Mix): Adam Levine
The Roof Is Broke (Demo Mix): Cessyl Orchestra
Tell Me If You Wanna Go Home (Rooftop Mix): Keira Knightley and Hailee Steinfeld
Intimidated By You:  Cessyl Orchestra
Sing Street (2016)
Após um convite do diretor de cinema John Carney, com quem Adam já tinha trabalhado em "Mesmo Se Nada Der Certo", o vocalista do Maroon 5 ajudou a compor e cantou uma das músicas da trilha sonora do longa-metragem do cineasta "Sing Street". A canção "Go Now" foi composta em uma parceria entre Adam, Carney e Glen Hansard.
Tracklist:
Rock N Roll Is a Risk (Dialogue): Jack Reynor
Stay Clean: Motörhead
The Riddle of the Model: Sing Street
Rio: Duran Duran
Up: Sing Street
To Find You: Sing Street
Town Called Malice: The Jam
In Between Days: The Cure
A Beautiful Sea: Sing Street
Maneater: Hall & Oates
Steppin' Out: Joe Jackson
Drive It Like You Stole It: Sing Street
Up (Bedroom Mix): Sing Street
Pop Muzik: M
Girls: Sing Street
Brown Shoes: Sing Street
Go Now: Adam Levine
Up: The Score
Drive It Like You Stole It: Hudson Thames
Posptar: Never Stop Never Stopping (2016)
Adam Levine está na trilha sonora do filme de comédia "Popstar: Never Stop Never Stopping", com uma participação na música "I'm So Humble", cantada também pelo personagem Conner4Real, interpretado por Adam Samberg, sobre a "humildade" dele. O longa-metragem é uma paródia de documentários sobre artistas pop, produzido por Samberg, Akiva Schaffer e Jorma Taccone, que formam o trio de comédia The Lonely Islands.
Tracklist:
I'm So Humble (feat. Adam Levine)
Hot New Single (Dialogue)
Equal Rights (feat. P!nk)
Turn Up the Beef (feat. Emma Stone)
Finest Girl
Mona Lisa
Are or Aren't? (Dialogue)
Hunter the Hungry Is Gon' Eat (feat. Chris Redd)
Should I Move? (feat. Akon)
Banditos (feat. Chris Redd)
Things in My Jeep (feat. Linkin Park)
Kill This Music (Dialogue)
Ashley Wednesday (feat. Seal)
Fuck Off
Donkey Roll
Trip to Spain (Dialogue)
Ibitha
Owen's Song
What Was That Beat? (Dialogue)
Sick Glenda
Incredible Thoughts" (feat. Michael Bolton & Justin Timberlake)
Me Likey Dat
Legalize It
I'm a Weirdo
Karate Guy
Rock Roll Skate
Hey Ya Ho (feat. Chris Redd)
Maximus
---